Here are some natural wrinkle treatment solutions , tips and tricks from natural at-home methods to controlled and highly effective natural skin care product recommendations
SPF or a big floppy hat- or BOTH!
Need I say more here? We know that wrinkle prevention and even wrinkle treatment depends on limiting sun exposure. Natural Wrinkle Treatment #1- Stay out of direct sunlight and those awful tanning beds whenever possible! Get yourself an excuse to buy a new floppy hat, big sunglasses, SPF 50 and sunless tanning lotion.
Quit Smoking
The evidence there that cigarette smoke releases an enzyme that breaks down the collagen and elastin in your skin. Learn how to restore or regenerate your own collagen
Your Facial Movements
Any repetitive facial movement (such as squinting or furrowing your brow) can cause wrinkles – so watch your expressions! Another reason to wear cute sunglasses and avoid squinting. Learn which facial exercises can help with saggy skin.
Sleep on Your Back
Sleep lines are wrinkles that may become etched into your face permanently if you sleep in the same position often enough, according to the American Academy of Dermatology. Natural supplements can help you get more sleep. Try Xtend Life's Neuro Natural Sleep for an all natural sleep supplement
Eat more fish or get an effective Omega 3 supplement
to help provide the necessary ingredients for cell renewal. Learn how omega 3 can help reverse aging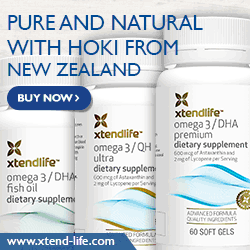 Eat ToFu
Soy can help protect from photo aging damage and even heal some of it.
Break a sweat
Sweating can help wash and revitalize your skin, and getting red-faced means that there is increased blood flow to all the areas of your face which normally receive minimal nutrient flow or waste removal. So hit the gym and then use a natural foaming facial cleanser to clean your face!
Use a quality natural moisturizer
Most of the anti-aging moisturizers which cost $50++ for a small bottle from the chemist will have little to absolutely no long term effect on your wrinkles. In fact, all those synthetic ingredients may harm your skin more than help it. Get yourself a natural moisturizer like Xtend Life Day Cream for Women or Men.